Congratulations to the graduates of our
Education Sponsorship Program!
TIE, as most of you know, has had a sponsorship program since 2009, whereby families and schools have been sponsoring Afghan children. Most were working on the streets of Kabul. These children were not able to go to school. Their families needed the income they were generating on the streets.
Support of $50 has made it possible for sponsored children to permanently get off the streets and go to school.  We now have 70 children in the program and will be adding more next month, when the new school year begins.
 The 2014 school year ended last November. Eight sponsored children graduated from high school, took the national college exam and are awaiting results. All eight plan to go to college and will likely get in.We also have our first college graduate, Zohra!!!!!
 Below are their stories.
ALL THEY NEEDED WAS A CHANCE
ZOHRA
Our first University graduate is a woman!  Zohra's father died when she was very young, leaving her mother to support the family of seven by taking in laundry. Her brothers were able to continue their studies but her older sisters were not. Sponsorship made it possible for Zohra to go to school.
From early on, Zohra's ambition was to become a doctor. She, like most Afghan children, "want to serve their country".
She graduated from a private college as a mid-wife, which she believes is "one of the best jobs to help women".
This couldn't be more true.  The lifetime risk of maternal death in Afghanistan is in the range between 1 in 6 and 1 in 9.  It's one of the highest maternal death rates in the world. This translates into an estimated 26,000 women dying from pregnancy related causes per year. On average that's one Afghan mother dying every 27 minutes
Zohra is living proof that when given an opportunity to become educated, Afghan women become an asset to their families, their community, and to their country. Zohra and her sponsor have also moved the country one step closer to achieving gender equality.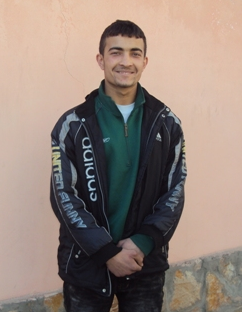 FARHAD
When Farhad started the program in 2009, he was working on the street to supplement his family's income. He lives with his mother, father and sisters in a rented two room house. His father sells women's sandals.
Farhad is an avid student. He loves to study chemistry, physics, math and languages. He has been writing his sponsor in English for the past 3 years!
Farhad  graduated in the top 20% of his class from Amani High School, one of Kabul's top schools. In a recent letter he stated his favorite subject is journalism and that he wanted to become a teacher. He wants to visit the United States so he can thank his sponsor personally.
"I used to work on the street before, but since you help me, I can go to school and study and provide for my family and I. Thank you for helping me. I now live comfortably."
ALINA
Alina lives with her mother and three sisters. They are very, very poor. It is frowned upon to live in a house without a man in Afghanistan, so when her father died, Alina and her family moved in with her uncle. The house has 2 rooms and Alina sleeps on the floor. Before being sponsored, she worked in a nut factory alongside her  mother.  She developed severe allergies due to the factory's pollution. Her sponsorship enabled her to quit the factory, to focus on her studies and provide some groceries for her family. Her mother also works to support the family by taking in laundry and cleaning houses.
Despite falling behind due to her health problems, Alina worked hard and graduated in the top third of her class. She loves biology and would like to go to become a doctor. Her mother and uncle want her to continue her education as well.
Alina wrote recently to her sponsor, "You have helped me improve our family's simple life and brought a smile to our faces during a difficult time. I am happy that, like other kids in the world, I can have a secure future with your help."
MEHDI
Mehdi lives in a 2 room house with his parents and 5 siblings. His father works in a bread shop and does some cleaning but most of the money his father earns goes toward rent.
Mehdi excelled in English. Like Farhad, he has been writing his sponsor in English for the last 3 years! His  favorite subject is computers. Since early on Medhi has wanted to soar high! His dream is to go to college and become a pilot and "fly everywhere".
OBAIDULLAH
Obaidullah's father supports six children on wages earned as a day laborer ($6 – $8 a day when there is work). Financial challenges aside, Obaidullah is determined to make the world a better place. He enjoys school and studies all the time. He is particularly interested in biology and chemistry.  Last year Obaidullah wrote his sponsor letters in English! In one letter he wrote:
"We have security problem in Afghanistan. Every morning when we wake up, we hear the bomb blast sound (sic). People can't send their child to school. It is one of my best wishes to get peace in Afghanistan".
Obaidullah wrote many letters to his sponsor and they all spoke of his desire to one day help and give back to his country. Obaidullah wants to be a doctor, to "help the war torn people of Afghanistan so they can have a bright future".
He also enjoys the poetry of the Afghan poet, Mawlana Mohamad Jalalidin and sports, especially soccer.
NAJEEBULLAH
The eldest of 4 children, Najeeb was working on the streets before receiving his sponsorship in 2009. His father, a servant who earns barely enough for his family to survive, could not afford to send him to school.  Extremely intelligent, Najeeb excels at mechanical and electrical engineering and dreams of becoming an engineer. He just finished his 12th year at the Kabul Electronics and Mechanics Institution, ranked second in his class. He has an additional 2 years to go in the graduate program.
Najeeb wrote, "Whoever goes to school, will know about humanity."
MORSAL
Morsal's father is very old and sick and unable to work.
Her mother supports the family of 9 by taking in laundry. She has 4 sisters who are also students and 2 brothers who finished school.  Morsal  would like to become a doctor.
She wrote, "Going to school is my happiness. God has never disappointed me; he has always helped me. I have wished that as quickly as possible, that I finish my education in order to help my family and my country….to get rid of the sadness and despair."
FAHIM 
Fahim was 7 when his father, a mason, fell off a roof while working and died. His mother, a teacher, did the best she could to raise him but became very ill, needed treatment and had to retire. He was forced to work on the streets to help support his mother, brother and sister until he received his sponsorship in 2010. They live together in one small room and survive on irregular support from uncles. Four years ago, he didn't have clothes to wear.
Fahim graduated number one in his class. His favorite subjects are biology and Dari. He would like to go to college to study Medicine or Law, as he feels Afghanistan needs both. One day, he would like to study outside of Afghanistan to get a master's degree, or go to medical school, then return to be of service to his people and country.
He writes, "Four years ago I did not have any clothes to wear but today with your help my life is different and I don't feel any different than others."
NEELAB  
Neelab's father is a laborer who only finds work sporadically. The eldest in her family, Neelab, began with the program in 2009.  As she states in a recent letter to her sponsor, "my life has changed greatly."
Neelab loves school and graduated in the top 10% of her class. She loves geography, history, English and mathematics, and she would like to become a doctor in the future.
If you're interested in sponsoring a child send me an email. We can all change the life of at least one child.